Suzanne Shaw a gorgeous looking lady is very much popular all around the world. She has been doing a lot of works like with some of great talents in him. She was born on 29th September 1981. Her birthplace is in England. She is famous for the television realty show named Pop stars.
Also, she has got a musical band named 'Hear say', which she started with the other contestants. A multi talented lady is also a winner of the famous realty show ITV1's, where she danced on ice. The famous realty and TV shows of her are the bill, Bingo lotto, the court, the baron and Chicago.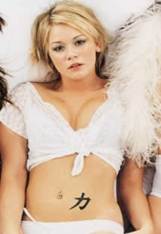 Now talking about her tattoo, she is not at all fan of making tattoos. Whereas the other pop singers like her is likes to make tattoo. The tattoo, which she has got, is of a kanji symbol. This tattoo is situated on the lower stomach.
Although this lady is beautiful looking and has got all such things that is present in a model but Suzanne Shaw is not a fan of making tattoo. The stomach tattoo, which she has got, is really very sexy and the tattoo has got a meaning as strength. The tattoo defines her hard work and tells how strong lady she is.