Gorgeous American actress Adrianne Palicki was born on May 6th, 1983 and is best known for her appearance in television series 'Friday Night Lights' where she played the character of Tyra Collette and in 'Agents of S.H.I.E.L.D' where she is Barabara Morse. Adrianne has also had supporting role in movies like 'G.I. Joe: Retaliation', 'Red Dawn' and 'Legions'.
Born in Toledo, Ohio, Palicki has had a topsy-turvy career graph. In the horror drama 'Supernatural' she starred as Sam Winchester's fateful girlfriend who gets killed in the pilot episode. She made reappearances in solo episodes in Season 2 and Season 5.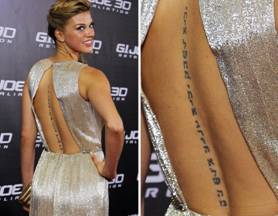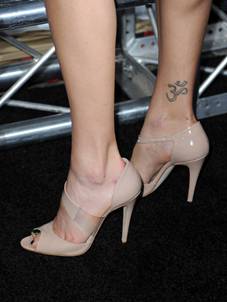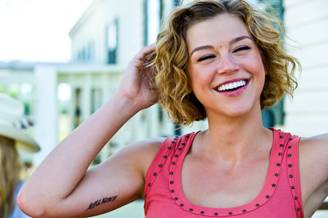 The actress with a solid television career has more than three tattoos on her body. The first and foremost one is a tattoo that runs down along her spine. There are, however, doubts regarding the meaning of this sensuous tattoo. On her ankle, Adrianne has an Om tattoo, the connection being that she is a Yoga enthusiast. The third tattoo is on the inside of her right arm, on her bicep to be precise, and it is name tattoo. The tattoo reads 'jeff and Nancy', that is, the name of her parents. Indeed a nice small collection of tattoos with diverse meanings.