Anthony Kiedis is an American singer and song writer born in the year 1962, November 1st. the artist is in the Band Red Hot Chili Peppers as a vocalist and lyricist. This band has released 10 studio albums and Kiedis participated in the Rock and Roll Hall of Fame in the year 2012. Kiedis has also acted in few movies such as Point Break, The Chase, Scar and more.
Anthony Kiedis has adorned his well toned body with numerous tattoos and it is unique pleasure to explore through them. The Red Hot Chili Peppers' leading singer has almost ten pieces of exquisite body art depicted. Most of the inking of Kiedis is done with dark black shade bar.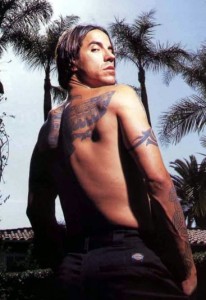 Kiedis has two arm tattoos that portrays heritage of North America in a colorful way. His unique tattoos reflect his personality and attachment to the rich Native American culture in his life. Kiedis has inked the face tattoo of Chief sitting Bull and this was his first addition on his left arm. This was done on his upper arm exclusively portraying his muscular art. And the wonderful artist has also a portrait image of Chief Joseph drawn as upper left arm tattoo. But the most prominent and famous tattoo is Kiedis' back tattoo. The tribal tattoo on his upper back spreads across entire back. This exotic tattoo was completed in the year 1980. He also has a tiger tattoo on inner areas of his right elbow piercing down to the wrist. And there are two tribal daggers tattoo depicted on each forearm. These body arts run from his fascinating elbow and down to his wrists.