Brooke Levi Vincent the gorgeous British actress has earned popularity from the ITV Soap opera when she played the role of Sophie Webster. Actually this particular role as played by Emma Woodward until the year 2004, May 12th and then she started playing the role of Sophie from then. First Brooke's started her acting career in the guest role of the TV series, "The League of Gentlemen" in which she acted as Casey Emma Glass. Later she joined the Coronation Street team for the Sophie role.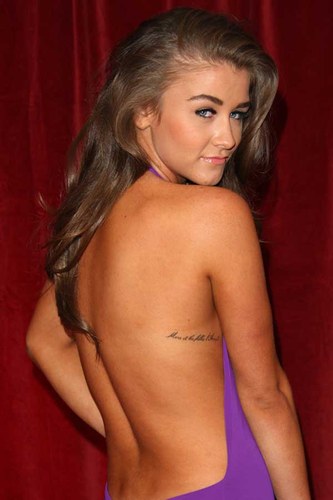 After casting the role of Sophie the actress appeared on the series, Children in Need". In the year 2010 September 7th interview along with Sacha Parkinson and Vincent discussed about the lesbian storyline roles and their characters. Vincent was nominated for the Best Dramatic Performance from a Young Actor or Actress award for her Sophie character at the British Soap Awards 2008.
Brooke Vincent has wonderful tattoos decorating her sexy body. She revealed her side tattoo when she debuted her new phrase tattoo to the world at the British Soap Awards. The etching was seen on the left side of the Coronation Street actress and it reads as "A mother and daughter love". The sweet little girl revealed to her fans that she is a momma girl and her awesome tattoo is dedicated to her mom Nicola, whom she adores and loves.