Famous Actress Charisma Carpenter was born on 23rd July 1970 in one of the busiest cities Las Vegas. She was most popular for the television series called as Buffy the Vampire Slayer for her amazing role of Cordelia Chase. But except that she has worked in many movies such as The Devil You Know, Blue Bloods etc.
From the childhood Charisma has been very stubborn. During her high school period, she was playing a cheerleader role and later she was chosen as San Diego football team's cheerleader. Her first appearance as actress was in Baywatch and since then she never looked back.
Charisma is really fond of wearing unique and interesting tattoos. The first ever tattoo she wore was the sun in entwined mode with moon at lower back. Logic behind wearing sun is because sun represents life with its vibrant nature. With the combination of moon, it seems like sun is kissing the moon and both of them are happy. Probably that was the way she wanted to attract her fans even more.
Charisma Carpenter's second tattoo was a left wrist tattoo which was a rosary. When she was asked about wearing a rosary tattoo, she explained it works as a reminder to her to stay in the middle of any matter. She wanted to see this symbol each and everyday because it tends to force her to stay focused. It's kind of spiritual for her and gives her positive energy. Many times she has been caught on cameras with this and other types of tattoos in her body.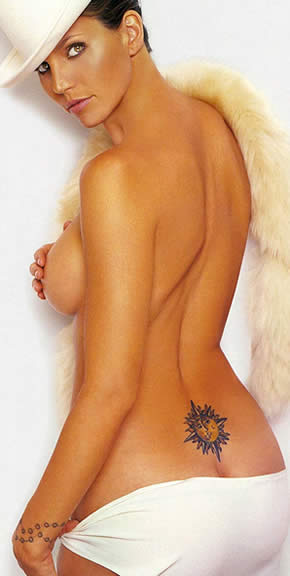 Tags: