An American entrepreneur and webcam model, Jenna Jameson, born as Jena Marie Massoli in 1974, is better known to the world as one of the most celebrated porn stars ever. In fact, she is still now regarded as the most famous adult film star of the world. Till date, she has won around 35 adult video awards including the famous Hot d'Or Award at the Cannes International Film Festival. Jenna Jameson is known for her beautiful frame and her pretty smile.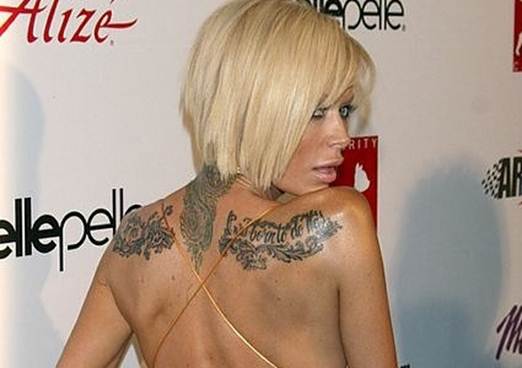 The "Porn Queen", as she is famous referred to by her fans, has quite a few tattoos adorning her body. Of all the six tattoos, the one which grabs everyone's attention at the first notice is the huge back tattoo which reads I am not afraid. I was born to do this. Well surely this lady has got some guts in proclaiming her thoughts right away like this but how we wish this tattoo was way more neatly and intricately done!
Jenna Jameson surely loved and admired her work. A glimpse of this can be seen in her Woman in a Red Halter Top tattoo etched on her right leg. The lustrous hair, red dress and the high heels will surely remind you of the grand Porn Queen in her hey days and peak of her career and her shoulder tattoo is a big hit among her loyalists!