Justin Drew Bieber are the official names of the celebrity Justin Bieber. He is a Canadian pop musician, an actor and songwriter born on March 1, 1994 to Pattie Mallette and Jeremy Bieber at St Joseph's Hospital in Stratford, Ontario, Canada.
Justin Bieber has been raised up by his mother, a French Canadian, since Mr. Jeremy and Pattie had never been married. Justin mother was occasionally advised to abort the pregnancy but she never agreed to do so. Bieber attended a French-language immersion elementary school in Stratford, the Jeanne Sauvé Catholic School. Being interested in hockey, soccer and chess, Justin grew up keeping his musical aspirations to himself. Bieber's debut was in 2008 when he was signed to Raymond Braun Media Group, a joint venture between Braun and Usher then later in October the same year he was signed to Island Records and appointed Hicks as executive Vice-President of Def. Jam where he would be able manage Bieber's career at the label. He has done many songs among them: Baby, boyfriend, all that matters, never say never, beauty and a beat, as long as you love me, all around the world, mistletoe, love me, one time and heartbreaker.
Justin Bieber has more than 20 tattoos on his body that have various meanings. The following are some pictures of his tattoos with their meaning:
Justin Bieber's Jesus Tattoo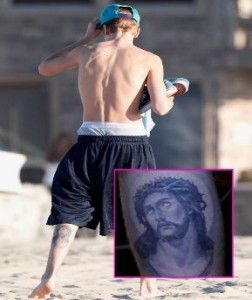 The tattoo was done on December 2011 while on vacation with Selena Gomez in Cabo San Lucas Mexico. It is an image of Jesus with a crown of thorns and a halo above his head. This tattoo seems to show a trend in religious tattoos for Justin Bieber. It also shows a strong influence by his dad, having several religious tattoos of his own.
Praying Hand Tattoo on his Left leg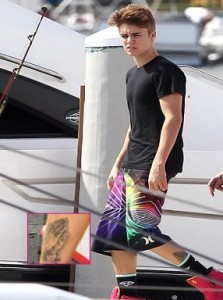 The tattoo was done in March 2012 while on a fishing trip with his girlfriend Selena Gomez and some family members.It is an illustration of hands in prayer on his left leg done in March 2012, right next to his portrait of Jesus. He also has a song called Pray. According to some, people who get praying hands tattoos like this firmly believe in the power of God and prayer.
Bieber's other tattoos include:
 Small Bird Tattoo on His Waist / Hip (April 2010)
Hebrew Tattoo on His Left Ribcage (May 2011)
BELIEVE Tattoo (June 2012)
Japanese Kanji symbol for "MUSIC" (July 2012)
Crown(August 2012)
an Owl – meaning "Wisdom" (October 2012)
New Detail for Praying Hand roses (December 2012)
Indian Hockey Team on his Shoulder (January 2013)
Roman Numeral IIXVIIV = 1975 on right Chest (January 2013)
X Tattoo, Greek symbol for "Christ" (February 2013)
Koi Fish – Meaning "LUCK" (April 2013)
Tiger on left Bicep (April 2013)
Selena Gomez Angel tattoo on his wrist (April 2013)
Big Knight Tattoo on his left arm (May 2013)
Castle and Waves Tattoo to Complete a Half-Sleeve (June 2013)
A Bleeding Globe on the Cross Half-Sleeve Addition
Eye ball tattoo dedicated to his mom Pattie Mallette (July 2013)
Rose on left arm (August 2013)
Virgin Mary of Guadalupe on left arm (August 2013)
Bible Psalm Tattoo on the Back of His Shoulder
Tags: