Lily Monica Donaldson was born on 27th January 1987. She is a British model and was born in London and completed her education from the Camden School for Girls. She used to live with her parents in Kentish Town. At a very young age, Donaldson has been able to bag herself campaigns from illustrious brands like Dior, Dolce & Gabanna, Max Mara, Jil Sander, Burberry and Shiatzy Chen and many more.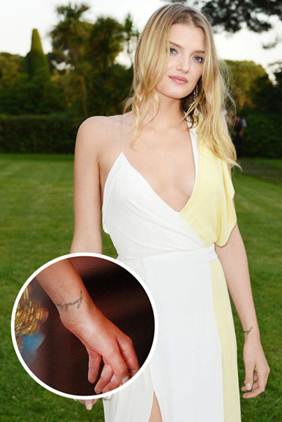 Being a model, Lily Donaldson alternates her fashion style depending on social events and her preference. Simple and sober, the model has only one wrist tattoo till now that is visible. This is on her left hand's inner wrist and carries the names of her mother and sister, i.e. Tiffany and Aurelia, in their own handwriting. This is something simple, personal and sweet.
Today a lot of celebrities have the names of their loved ones as their wrist tattoos. When enquired about the tattoo by Vogue Australia, the model answered that this tattoo is meant to remind her that regardless of any circumstance in her life, she will always have her mother and sister, or certain aspects of them with her always. It's like carrying their essence every time.