Marisa TOMEI, is an American Actress at almost every possible level be it the stage, the television or films. Her career is one of the longest in the industry stretching for over three decades. As a youngster, she had a lot of success at the initial stages. However, her initial success was followed by a series of films that turned out to be unsuccessful. He came back with a series of films that had been critically acclaimed. It was in 1992 that she was recognized internationally, thanks to her role in My Cousin Vinny. For this, she had received an Academy Award for the best supporting actress.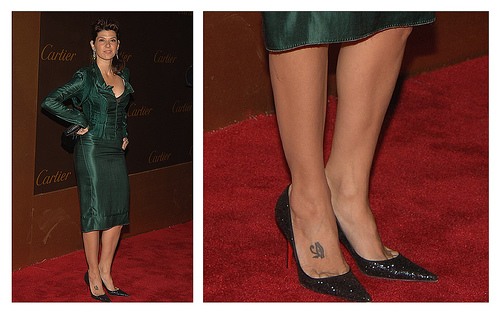 Marisa TOMEI has a tattoo on her right foot. This tattoo is unlike any other tattoo you have seen. It is one of a kind and extremely rare. It resembles the eye of the Egyptian God Horus. The meaning of this symbol is extremely complicated as this symbol itself consists of various other symbols that have meanings of their own.
This tattoo comprises of three primary components. Firstly, the eye itself is a major component of the tattoo followed by the teardrop at the corner of the eye and last but not the least, a spiral that stretches out from the eye rim at the bottom.