Megan Joy was born on September 18, 1985. Formerly known as Megan Joy Corkrey, is an American singer-songwriter and actress from Sandy Utah, United States. Joy coined the ninth place finalist on the eighth season of American Idol.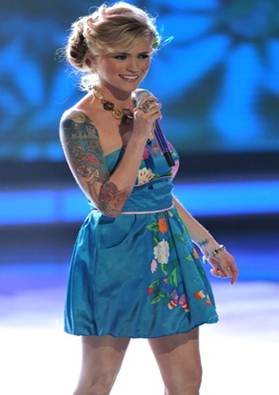 Megan dropped her last name, stating that it was her ex-husband's. Joy strived to compose her self-titled debut EP, with the funding given by her fans and later released her debut album Megan Joy in 2012. Joy is a graduate from Taylorsville High School, Utah. She has a mom, a stepdad, a sister and a brother. Joy was quoted, "I was at my lowest. I was depressed and miserable. I lost myself. Idol gave me myself back. I fell back in love with music and got back my confidence." She has a son named Ryder.

The right-hand tattoo took over two years in the making and is still incomplete. She got all of her tattoos at Apparition Ink by Jared Hayes in Salt Lake City. The tattoowhich covers most of her arm, "It's a castle and there's a night sky above it", she explains and then there's a stained glass window with a king and a queen. Then there is sleeve tattoo, which is just one of the seven tattoos joining two stars on her back to represent Joy and her mother.