Rakhi Sawant who was born in Worli, of Mumbai, India has been passionate about dancing from her childhood. She is crazy about dancing and has skills in acting and now plays a role in politics as well. Her family is linked with Indian movies and that is why she got able to show her talent to public easily.
She made debut in a Indian movie Agnichakra and since then she has been working in various low budget movies as a part time role or dance numbers. She had to go through a lot of auditions in earlier time of her career but later she got offers from various producers especially regarding item numbers.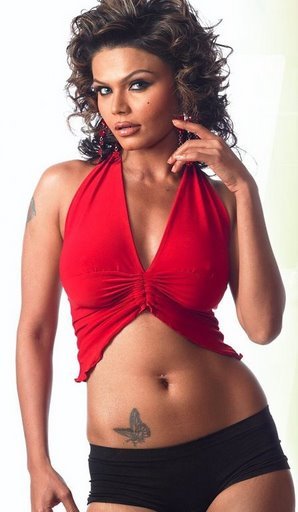 Since Rakhi is extremely good in dance and normally does item number hence she has to wear short dresses with various tattoos in different parts of her body. In a remix album, she had a small tattoo above her chest. Normally she likes to wear tattoos at her lower abdomen, shoulder and lower back as well.
Rakhi has been in various controversies in many occasions. But that did not affect her career or her wearing style. She has been wearing glamorous get ups with various tattoos and with the popularity she has been getting, one would have to say that these get ups suits her better. In few stage shows, she showed a butterfly symbol as her lower abdomen tattoo. At the same time, she had another shoulder tattoo which was a red rose.