Sergio Leonel Aguero was born on June 2, 1988 in Quilmes, Buenos Aires. He was the second child of his mother Adriana Aguero and father Leonel Del Castillo among seven children's. His mother was a housewife and father was a taxi driver. Unlike his siblings, Sergio Aguero took the last name of his mother and not his father's Del Castillo.
An argentine footballer Sergio Aguero's nickname is Kum, which was given when his grandfather noticed his resemblance to his favorite cartoon Kum-Kum the Japanese anime character. He played football at the very young age of childhood and as a professional Argentine football player, he plays as a striker.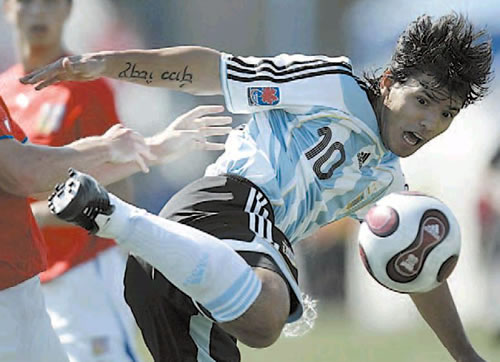 In 2005 and 2007 at FIFA U-20 World Cup, he represented at international level the Argentina U-20 team and won both the tournaments. He started with Independiente his debut in Argentina First Division as youngest player at 15 years 35 days breaking previous record of Diego Maradona. He also has his own museum. In 2010 world cup he was member of Argentina national team. He also signed in August 2011 with Manchester City.
Sergio Aguero has distinct couple of tattoos on his left and right arms inner side. Every times he uses to kiss his tattoo to celebrate his goals. This Argentine player inside his left arm part bears tattoo with his son Benjamin's name and also the birth date of his son February 19th, 2009. The tattoo on his right arm spells "Kum Aguero" inscribed in Tengwar,  an Elvish script type a devised language from author J.R.R Tolkien's "Lord of the Rings" and which was used by elves in his book.