Terrence Richardson is known with the name of Terry Richardson. He was born in 14th August, 1965, in New York City. His mother Norma Kessler was an actress and his father Bob Richardson was a fashion photographer.
He originally wanted to become rock musician. He performed as bass guitar in the band called The Invisible Government, Signal Street Alcoholic, and Baby Fist etc.  In 1992, Richardson gave up music and started shooting the night life of New York City. In 1984, his fashion photos were published for the first time in the magazine Vibe. He shot for fashion designer Katherine Hamnett. Then he moved to London and worked for European magazines.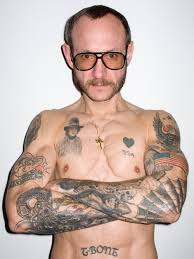 He later produced Campaigns for Diesel. In 2007 one of these campaigns called "Global Warming Ready" won an award in Cannes Lion International Advertising Festival. In 2012 he gave a solo exhibition for the first time which lasted from February 24 to March 21. It was named as "Terrywood" and was showcased in OHWOW Gallery in Los Angeles.
He has a passion for tattoos which shows his connection to rock bands. He has a Spider web tattoo in his left elbow and also has several women portraits tattoo at different parts of his body.