Val Kilmer is an amazingly talented actor. He was born on December 31st in the year 1959. He started as a theatre actor and then made his way into soap operas and finally into movies.  He is an American actor with works like Top Secret, Willow, Real Genius and Top Gun under his belt. He has also been a part of Batman Forever, The Doors, Tombstone and The Salton Sea. Kilmer has been married and even fathered a son. Recently in 2015 he was hospitalized due to heavy bleeding in his throat but is said to refuse treatment even though he says these are rumors.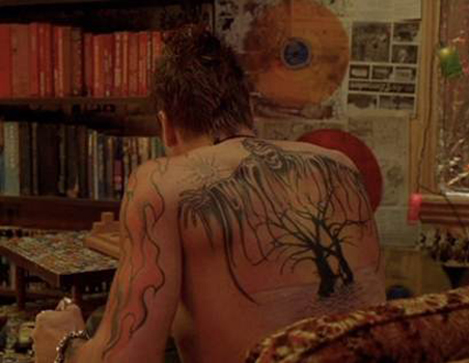 Kilmer was spotted with an exceptionally bold and dark tattoo of a very disturbing scene. This was his back tattoo; it was appealing as well as surprising for a religious man like Kilmer to sport such a tattoo. It was one of his tattoos from The Salton Sea where he portrayed a drug-abusing informer.
The next eye-grabbing tattoo from the same movie The Salton Sea was on his arm. The arm tattoo showed an intricately designed picture which at first glance looks like a web. It is an abstract design but the brilliantly genius tattoo must be given its due credit.