David Robert Joseph Beckham was born in the year 1975, May 2nd. He is the British football player who has won marvelous league titles exclusively in four different countries with his excellent performances for solid Twenty years. However the legend player retired after playing on the 2012-2013 league games, for the last time. Beckham started dating the spice girl Victoria Adams and this romantic relationship blossomed in to a successful marriage. The couple is known as the Posh and Becks by their fans and media. The fairy tale lovers got married on the 1999, July 4th and have three sons and one daughter.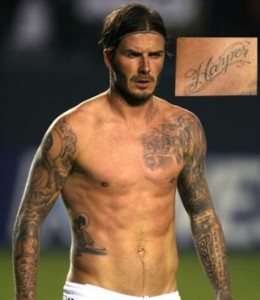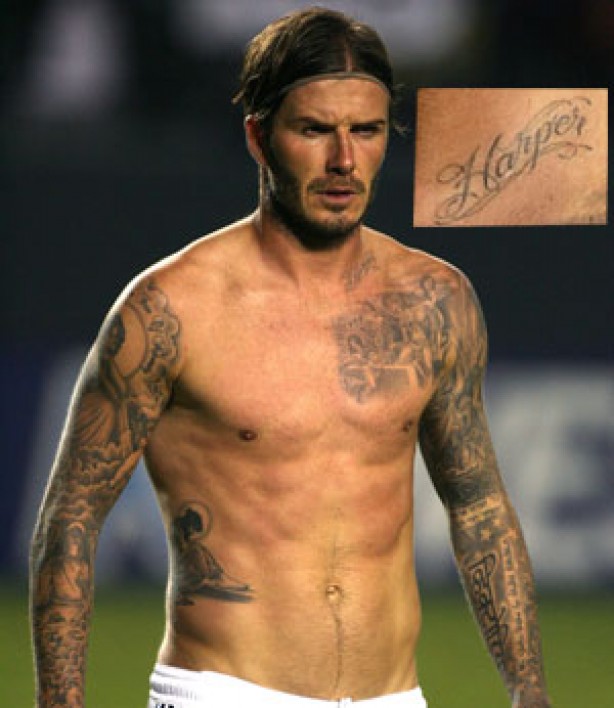 David Beckham has more than 20 awesome tattoos adorning all over his body in diverse locations. Beckham said that, "Everybody has a way of expressing their feelings and mine is through my tattoos." David cherishes his amazing tattoos like children and nourishes them in an exclusive manner. There are names of his wife and sons tattoo, Roman numerals, guardian angel tattoo, his name in letters tattoo, ring of roses tattoo, Jesus and cherub tattoo and more.
His tattoos are very special since it denotes to the people in his life, especially his wife, sons and daughter whom he treasures as precious wealth and wants to be with forever. He said in his interview about tattoos that his tattoos portray his deep feeling of love towards Victoria and kids. Most prominent tattoo was the portrait image of Jesus Christ inked on his left forearm, which is actually the symbolic image of the catholic artist Mathew R. Brooke, "The Man of Sorrows" Beckham has drawn this fabulous tattoo soon after his grandfather died.