Eminem is a celebrity American rapper, record producer, songwriter and an actor whose really name is Marshall Bruce Mathers III. He was born on 17th October the year 1972 in St. Joseph, Missouri. He is the only child to Marshall Bruce Matherd Jr and Deborah R. Nelson .He is of English, German, Scottish and Swiss descent. He is a member of group D12 as well as a member of Bad meets Evil alongside Royce da 59. He is one of the world's bestselling music artists having albums sales of more than 115 million, singles of 120 million.
Eminem attended several schools as he moved around a lot as a kid. The ones that he spent most time in were:
Lincoln High School, Warren, MI

Dort Elementary School, Warren, MI

Osborne Middle School, Roseville, MI.
He failed the 9th grade twice and dropped out at the age of 15 to pursue his career in rap.
EMINEM'S SOCIAL LIFE
He was married to Kimberly Anne Scott in 1999 and divorced in 2001. They later remarried in 2006.
EMINEM'S TATTOOS
Eminem's stomach tattoo: Rot in pieces
An open grave and the words "Kim" and "Rot in Pieces" in the belly – all this tattoo is dedicated to his wife Kim Scott and was made at the time they divorced after many years filled with conflicts (including the attempt to suicide Kim). The words (a pun on RIP) mean something like "rot in pieces." In addition to mean the end of marriage, also expressed deep sorrow felt by the fact that Eminem's relationship does not have survived the constant problems. Eminem and Kim started dating in high school, married in 1999 and divorced in 2001. Remarried on January 14, 2006.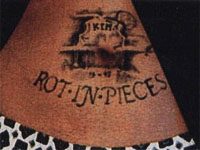 The letter "D" on the right forearm and the number "12" on his left forearm
D12 (also known as The Dirty Dozen and D-Twizzy) are an American hip-hop group originating from Detroit, Michigan which have had albums reach the top of the US, AUS and UK album charts – Devil's Night in 2001 and D12 World in 2004.
D12 was formed in 1990, but they only achieved mainstream success when their most accomplished member, Eminem, had risen to international fame and notoriety in the early part of the 21st century, although D12 had been a powerful force in the underground rap scene for several years prior. D12 group members include:
Eminem aka slim shady
Kon Artis also Mr. Denaum Porter
Swift aka Swifty McVay
Kuniva aka Rondell Beene
Bizarre aka Peter S Bizarre
The other tattoos of Eminem are:
The words "Slit Me" on the inside of the right wrist – meaning "cut me" and is a literal reference to suicidal tendencies who has experienced a phase of his troubled life.
A Gothic bracelet around the left wrist – Eminem has admitted he does not remember the meaning of this tattoo, implying that he was drunk when she was done.
An overview of the city of Detroit in the left arm – made to honor his uncle Ronnie Pilkington (who committed suicide in 1991 and who was very close to Eminem), this highly artistic tattoo includes several references to ghetto life: building, fire, a skull and the eye of a prostitute. In the middle can still read the words "Slim Shady" (Eminem's nickname in the group D-12 and its most "dark" according to his own) and low of the tattoo, a banner with the words "Ronnie RIP"
The words "Hailie Jade" on the inside of the right forearm – written vertically, is the name of their daughter, born in 1995.
The word "Proof" inside the left forearm – a tribute to friend and rapper Proof of his group D-12, was shot dead in 2006, and had a tattoo exactly the same.
A portrait of the daughter in the left arm – the picture of Hailie Jade is his latest tattoo, and also includes the words "Bonnie & Clyde", which is the title of a song appearing on his debut album "Slim Shady" and dedicated to his daughter. The image is still comprised of various roses, representing the eternal love for his daughter. This tattoo covers, in full, an old tattoo that simply said "Eminem."
Tags: