Joely Fisher born on October 29, 1967 has become a renowned actress. She was best known for her work on Ellen as Paige Clark. Most recently she has been found on RuPaul's Drag U as a guest judge.
Fisher was born in California and at the age of seven she has started giving her stage performance. Her first movie was released in 1986 and was crowned as a Miss Golden Globe in 1992 in Golden Globe Award.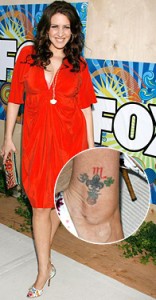 Talking about her tattoos you will find a tattoo on the right side of her lower back. It is a tattoo of an angel tattoo which is quite common among actresses. Though her tattoo is an impressive piece of art, but it is hardly visible. The tattoo of an angel is created at the end of the lower back. It is not the only tattoo that is found as there are many other tattoos found one in her ankle is also visible. The zodiac sign tattoo is identified on her ankle.
Under the zodiac sign tattoo there are also other three tattoos found but quite difficult to understand the symbol. There has never been an incident where she can explain about her three other tattoos that are placed above the zodiac sign.