Russian singer Yulia Olegovna Volvoka also uses the alternative spelling 'Julia' for her name. She was born in Moscow on February 20th, 1985. Volvoka belonged to a middle class family; her father was a businessman and mother, a hairdresser. She enrolled to music school when she was 6 years of age and at 11, she transferred to a school fostering artistic talent. Her solo debut single was 'All Because Of You'. Before that she was a member of the Russian girl group t.A.T.u.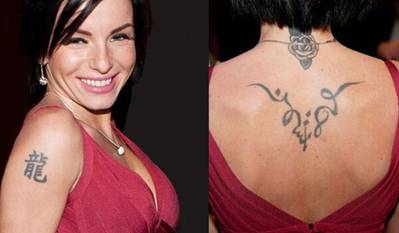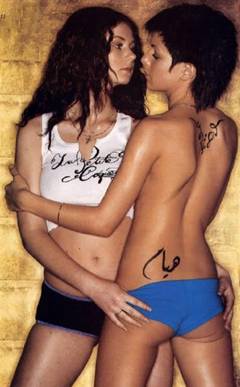 Julia also ventured into an acting career with co-star Lena Katina, her debut movie was 'You and I', a story of two teenage girls who meet and fall in love at a t.A.T.u concert!
The admittedly bisexual singer prefers to adorn herself with bold tattoos and has more or less seven tattoos on her body! On her lower back, Julia has a 'Love' tattoo in Arabic while on her upper back she has the words 'Love' and 'Peace' inked in Arabic. The message she is trying to convey here is pretty clear. Slightly above this, at the nape of her neck, Julia also reveals a rose tattoo.
The singer supposedly has a dragon tattoo in Japanese on her upper arm, although there are confusions regarding the true meaning of this tattoo!