Kate Garry Hudson is well known to people as Kate Hudson was born on April 19, 1979. She turned out to be a popular American actress. She created a massive impression among audiences through her remarkable performance in Almost Famous as Penny Lane. She has also shown her talent in a musical comedy drama Glee. Hudson is also associated with a fitness brand and she is the co-founder of Fabletics.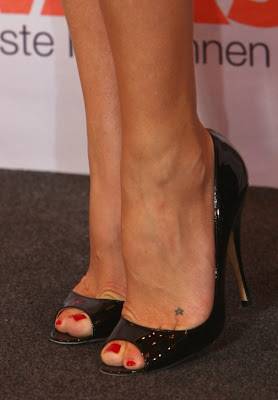 Hudson has a single, yet a prominent tattoo design on her left foot. A small star is located on top of her foot. Though she might have faked some of the tattoos is her movie, but this tiny star is the only one that is original. This tattoo never goes out of style and appears to be quite elegant on the foot of Kate.
Star is a symbol of truth and hope. It is often associated with the spiritual being of a person. The nocturnal nature of star may represent struggle against any force of darkness. Once Kate Hudson was noticed with a tattoo on her lower back, it was done mainly for a movie role. The simple and intricate design appears to be quite striking. May be her star tattoo symbolizes her desire to reach specified goal.