Taylor Michel Momsen was born on July 26th, 1993. She is a famous American actress and musician. She has earned immense appreciation for essaying the character of Jenny Humphrey in the famous CW television series named "Gossip Girl". She also played the Cindy Lou Who in the famous movie "Dr. Seuss' How the Grinch Stole Christmas". She plays under the band known as The Pretty Reckless. Her famous studio albums include Light Me Up (2010) and Going to Hell (2014).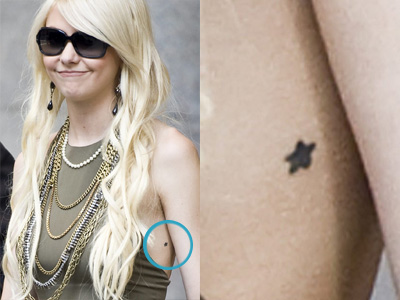 Taylor is smart, funky and sophisticated! She dresses in a "rock-chic" manner experimenting with contemporary trends. One of her famous tattoos is the delicate star tattoo that appears on the left side of her body. This tattoo is rather very delicately done with no extra detailing. It's just one small cute looking star that is taken to be a symbol of hope and happiness. It also denotes truth. This little star complements her personality.
The other tattoo that this star has been spotted with on her live performances is the cross tattoo, which appears on her left hand. Done with finesse this tattoo is symbolic of the Christ spirit and symbolizes blessing and protection from anything untoward that blocks progress.