The Italian footballer TOTTI, Francesco leads the Club Roma in the Serie A. He was born on the 27th of September, 1976. He primarily play in the supporting forward position or an attacking midfielder position. Over the years, he has also been utilized successfully as a winger and a lone striker. This man has been with Roma for his entire career and has won two Coppa Italia titles, two Supercoppa Italiana titles and one Serie A title. He is Roma's top goal scorer and perhaps their most capped player.
Francesco TOTTI has the tattoo of a Roman Gladiator on his right shoulder. This is one of the rarest tattoos in the market today and TOTTI is perhaps one of the rare individuals who have had this tattoo made. What does this tattoo symbolize?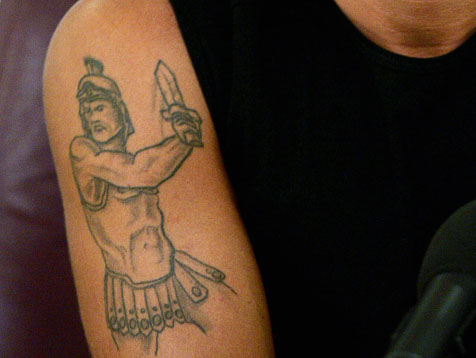 According to the Greek mythology, Gladiator represents will power and struggle. These can have several symbolic representations such as courage, fighter, skilled, bravery, honor, strength, fearless, heart, aggressiveness, power and authority. These tattoos come is several variations. TOTTI is a fighter in the field and this tattoos fits perfects with his personality. These tattoos are quite common among professional wrestlers all-round the globe such as Iron Mike Tyson.