Jennifer Blanc was born in the year 1974 on 21st April. She is a beautiful American actress. Though she was born as Jennifer Tara in New York City, later on she has changed her identity to Jennifer Blanc. Her acting skill has turned her into a prominent actress. She has taken active role in different television series and films that include "Dark Angels and Friends till the End". Here she portrayed the role of Kendra Maibaum and Zanne Armstrong.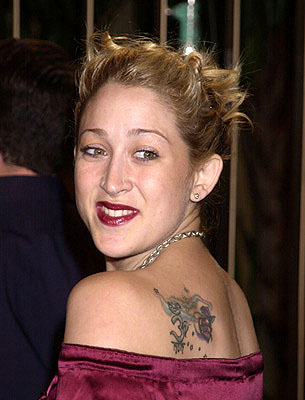 Blanc has a good taste for tattoo and you will find that she carries a lot of tattoos in her body. In various photos you will find three tattoos of this actress. A big angel tattoo is found on the back of left shoulder. Apart from making the tattoo a colorful one, a word has also been inscribed in Hindi language.
The other small star tattoo is present on the underside of left wrist. It is a tiny design that is hardly visible, but she has been found flaunting the tattoo in different events. Also on her left part of her body a small design is found that is designed in red color. Most of the actresses show immense interest on this design as it is simple and also represent the passion for work.